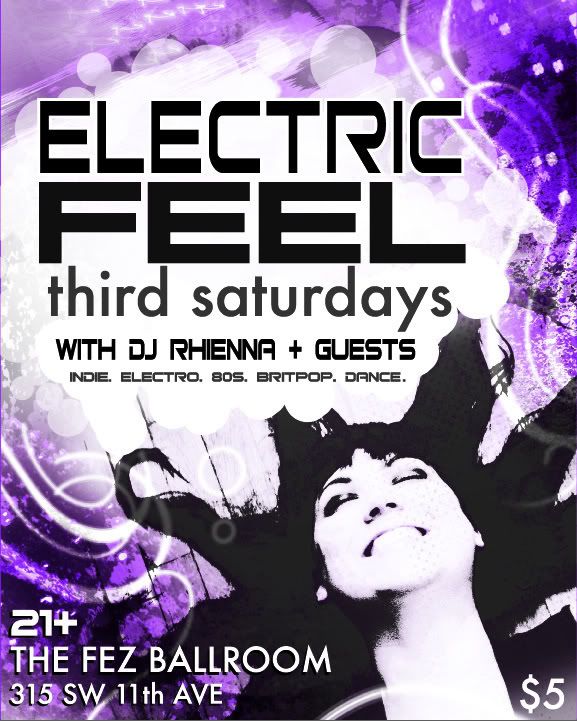 PDX PIPELINE gave this night a stellar write up calling it a "
A Deeply Satisfying Dancegasm
".
I'm gonna check out Electric Feel this Saturday night at the Fez Ballroom. I hear this is going to be fun night full of indie/electro/dance music, with some guilty pleasures, 80s, britpop, etc mixed in. I'm totally gonna bust out my latest dance move (not plural).
Electric Feel
is every 3rd Saturday of the month (this Saturday the 21st) The Fez features guest DJ's and performances along side with resident
DJ Rhienna
. This Electric Feel features
DJF
.
ELECTRIC FEEL FEBRUARY SETLIST
DJ RHIENNA 11:45pm-2:30am
---
robots in disguise - the sex has made me stupid
telepathe - chromes on it
yelle - je veux te voir
robyn - cobra style
peaches - i u she
strokes - last night
smiths - this charming man
electric six - danger! danger! high voltage!
justice - D.A.N.C.E.
scissor sisters - tits on the radio
dandy warhols - not if you were the last junkie on earth
blur - song no. 2
arctic monkeys - i bet that you look good on the dancefloor
MGMT - time to pretend
css - music is my hot hot sex
justin timberlake - rock your body
prince - gett off
le tigre - deceptacon
gang of four - damaged goods
beck - clap hands
kylie m. - speakerphone
justice vs. simian - we are your friends (remix)
arcade fire - rebellion (lies)
depeche mode - just can't get enough
mount sims - how we do
cut copy - lights and music
black ghosts - repetition kills you
pulp - common people
bell X1 - flame (chicken lips remix)
pet shop boys - domino dancing
mag fields - long forgotten fairytale
erasure - ALR
queen - radio gaga
the rapture - no sex for ben
MGMT - electric feel
clap your hands say yeah - the skin of my yellow country teeth
franz ferdinand - this fire
yoko ono - kiss kiss kiss (feat. peaches)
chicks on speed - mind your business
of montreal - wraith pinned to the mist (and other games)
white stripes - seven nation army
goldfrapp - number one
daft punk - harder, better, faster, stronger
kings of leon - taper jean girl
james - sometimes
wham! - everything she wants
The Fez
315 SW 11th
Starts 9pm
+21
$5 at the door


Sounds like fun. Doesn't it?
-- Ste. Goldie