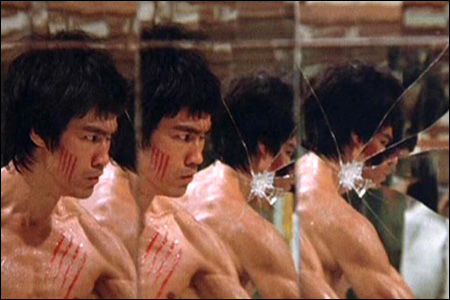 The internet means everyone can have a voice. The internet means "the powers that be" can take a breather and let the readers decide what is in and what is out, what is a radical paradigm shift, and what is an overly-hyped jab at the establishment.
Newspapers don't get to be the authority when it comes to music, literature, films, fashion, politics, social justice, or anything, anymore.
All newspapers, television and radio stations have credibility and censorship issues. But because they are the media you aren't going to hear about it from them. It's like how you never hear an ill word spoken of Jeff Gianola or
Amy Mccullough
. The journalistic integrity I keep hearing so much about is really about who can say what without stepping on you-know-who's toes. Yes, the corporate media is good at fact checking and will admit when they've messed up, BUT what they are presenting aren't always the facts the people are interested in.
Enter the Blog (omg it's like Enter the Dragon, only better!!!).
A newspaper or television station (OPB wants you to
share what you know
) can host a blog (topical, current, editorial or news breaking information) and let readers (humans) respond. It's free market research and information sharing, all in one!
Once the public starts to figure out they don't have to take what media companies are dishing, they can say goodbye to the internally selected and often ignored quixotic message in a bottle, i.e. "letters to the editor." They can simply join in the conversation. And if the writer of that particular blog doesn't see fit to respond to comments, then people will notice they are still caught up in the rules of print media. Writers aren't used to back-talk from their readers... Honestly, what could possibly make for better writing than to totally open it up? The brave new voices we will hear...
Ah the voices...
I want to hear new voices. I want to hear what COMMON PEOPLE have to say.
I hope to teach as many people as possible to start using their voice online. Crappy Indie Music--The Blog! is a group of people who aren't getting to paid* to write about Portland/Vancouver music they love and that is their culture. We consider ourselves authorities on WHAT WE LIKE and WHO WE LIKE. We consider YOUR comments interesting and inspiring. We post blogs because we want to talk to YOU, whoever YOU ARE. If you would like to post a blog or two or 100 here, please leave a comment and I will direct you on how to get started. - Ste. Goldie
PS -- this post is in response to
my most recent meltdown
regarding the WW's best band of 2008 thing
photo credit Enter The Dragon
* not that i totally wouldn't LOVE to get paid cash money to blog about Portland's increasingly out of control music scene... are you kidding me? Who wouldn't?