Here is a list of karaoke bars in Portland, Oregon. These are recommendations from CIMTB Readers and Bloggers. Leave a comment and give us your favorite!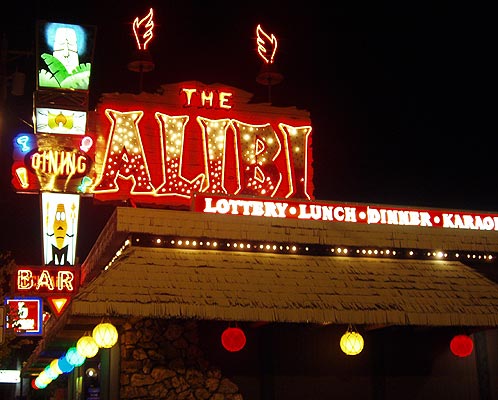 Dr. Something
says:
Singing with Karaoke from Hell (live rock band karaoke) is great! They play at Dante's every Monday, and sometimes other places.

In terms of regular old karaoke, The Galaxy, The Alibi and Chopsticks III are usually a good time.
Kid Tyger
says:
Chopsicks II Hands Down
Ben Moral
Says:
1) Kiknbaque Lounge - I'm probably biased by the proximity and the manager's propensity for free drinks, but I can't help but love the shit out of this place, especially Wednesday and Thursday nights for Karaoke.

2) Yen Ha - Rad little Korean restaurant/bar with Karaoke some nights. I think it's only on the weekends now, but they used to do Thursdays. I haven't been there in a little while, but the last few times I went, the bartender did one of the greatest renditions of Thin Lizzy's "Jailbreak" I've ever heard.

3) The Alibi - Karaoke every night, but less crowded than Chopsticks 2, closer than Chopsticks 3, less crappy than Galaxy. Also, buckets of beers, free food on Saturdays.
Karaoke from Hell at Dante's
1 SW 3rd Ave
Portland, OR 97204
(503) 226-6630
The Galaxy
909 E Burnside St
Portland, OR 97214
(503) 234-5003‎
Chopsticks II
2651 E Burnside St
Portland, OR 97214-1755
Phone: (503) 234-6171
The Alibi
4024 N Interstate Ave
Portland, OR 97227
(503) 287-5335‎
Chopsticks III
535 NE Columbia Blvd
Portland, OR 97211
(503) 283-3900‎
Kiknbaque
3536 NE M L King Blvd
Portland, OR 97212
(503) 282-1833‎
Yen Ha
6820 NE Sandy Blvd
Portland, OR 97213
(503) 287-3698‎
(503) 288-3773‎